I watched waaaaaaaay to much Sex and the City when I was in college, and I still watch it on Style to this day. It never gets old to me and I have nearly every episode memorized. On a daily basis, something happens, or somebody says something, or I see something that reminds me of a situation from the show. Today was no different. I had a business meeting this morning, so I was dressed for work. Unfortunately, I also had my annual OBGYN appointment in the afternoon, so I showed up to the gyno looking fab in my Louby's and my Kate Spade skirt. I was literally on the table, and the episode where the girls are talking about having their times of the month, Samantha being left out, of course, popped into my head.
Charlotte: Do you have another?
Carrie: Ladies, I am not Tampax central. Put on list: buy tampons.
Charlotte: Well, I have them at home but they won't fit in my Kate Spade purse.
Miranda: Wow—Kate must have a tiny vagina.
Seriously, it never gets old.
So, on to the outfit. I completely died when my mom picked this up at Goodwill on a trip there last fall. I screamed. LOUD. I knew it was Kate Spade because I had tried this exact skirt on at Nordstrom the year before, but couldn't justify spending the $199. This was my lucky day and I even had help digging through the racks that day. It was meant to be. $2.99 friends. I will have to say that the tweed had been completely frizzed out. I don't know how else to put it. Kind of like when a sweater pills, ya know? It looks like a beautiful chia pet. I put mom to work on it and she made it good as new. She was also sweet enough to let me babysit her Tory clutch for a few weeks.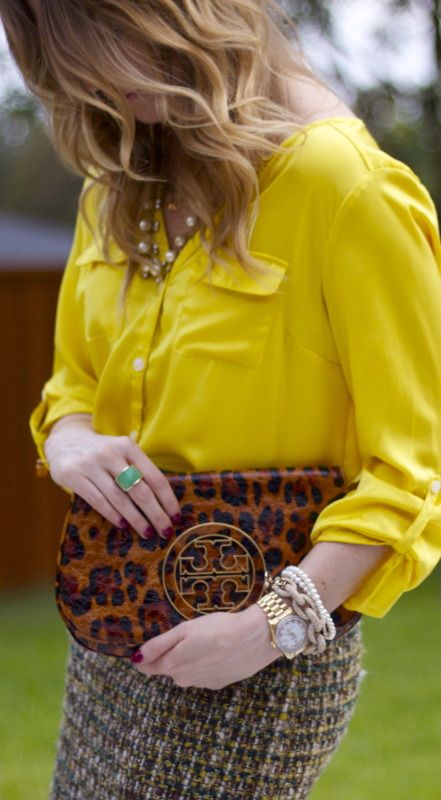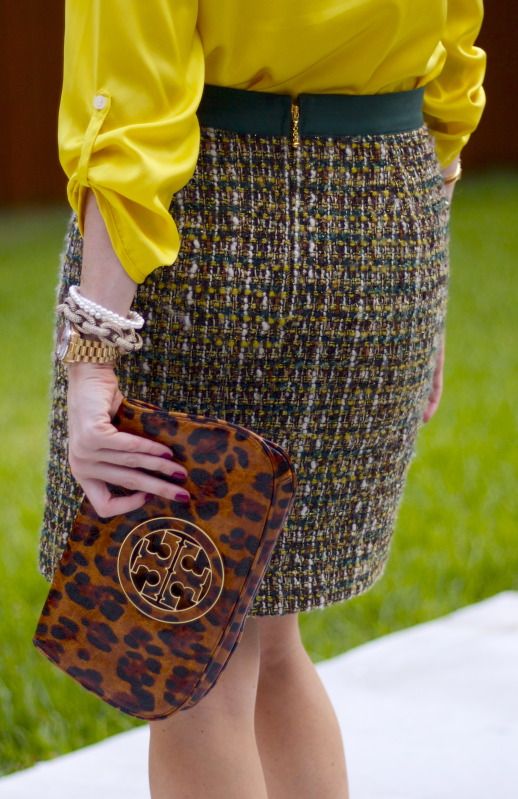 Skirt: Kate Spade Kylie Tweed Skirt, thrifted, great option from Ann Taylor
Bag: Tory Burch Ainsley Logo Clutch (no longer avail, but I love this color for fall!)
Necklaces: J.Crew, West Avenue via Max & Chloe
Ring: F21 (old, but love these for $4.80)
Bracelets: vintage Hermes, J.Crew, F21
Can you tell I've committed to fall with the dark nails?
xoxo,
sarah