I've been doing really well lately with not shopping. It's been, like, a whole month, so I decided to step into F21 for a little retail therapy on the cheap. Per usual, I went into the dressing room with about 700 items and came out with four choices that I couldn't live without. The tank and skirt in this post have great color and a little detail that I appreciate, especially coming from a retailer like F21. The tank has gold buttons going down the back, and the skirt's drawstring has gold tabs on the ends. Subtle touches that go a long way for me.
Both the chain link tank and the mint skirt look adorable together, but can also be paired separately with numerous other items, casually and for a more polished look. I'm thinking the mint skirt paired with a boyfriend blazer for work and a plain white tank and sandals for the weekend. The chain link tank will go with just about every pair of colored denim that I own, and looks great with white anything. At about $25 for each item, I felt these were both well worth the break in my fast.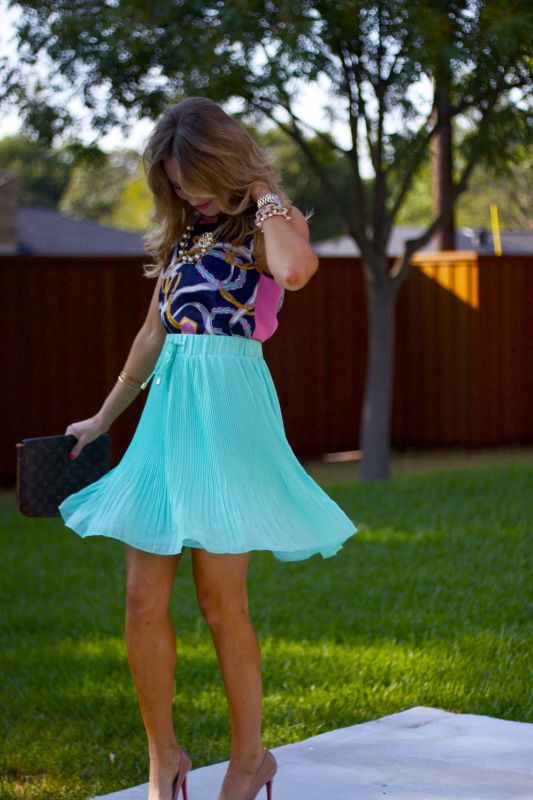 Top: F21 in store, not avail. online
Skirt: F21 $22 and comes in 4 gorgeous colors
Bag: Louis Vuitton Musette (ret.)
Necklaces: J.Crew Factory (clearance, but similar for $5.80!!), West Avenue via Max & Chloe
Bracelets: F21, J.Crew, Kate Spade, Hermes
Have a beautiful week!
xoxo,
sarah
<a border="0" href="http://www.longdistanceloving.net/search/label/friday's%20fancies" target="_blank"><img src="http://i1080.photobucket.com/albums/j332/longdistanceloving/fridaysfanciesbutton.png"/></a>